---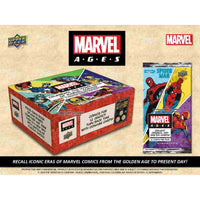 2020 Upper Deck Marvel Ages Box
2020 Upper Deck Marvel Ages Trading Cards delivers (4) Base Set Foil Parallel Cards, (8) Photo Variant Base Cards, (2) Decades Cards and (1) Flavorful or Word Cloud Card in Every Box! Marvel Ages provides a NEW retrospective look back at Marvel Comics since their founding over 80 years ago! Recall the iconic eras of Marvel Comics from the Golden Age to the present day!
The extensiveness of this Marvel set is nothing short of incredible and it starts, perhaps not surprisingly, with Comic Clippings Cards. These are unique pieces which offer slices from authentic original comic books, with an Autograph parallel that features signatures from a variety of artists. Al Milgrom, Bill Sienkiewicz, Gerry Conway, Jim Starlin, Jim Steranko, Mark Bagley, and Marv Wolfman signed these pieces that are sure to have a lasting impact in the hobby!
Other relic cards will be worth their weight in gold (and silver), pun intended! Golden and Silver Age book cards contain pieces of the corresponding precious metals, making these exceedingly unique. Coinage Cards, meanwhile, blend currency with cardboard for a unique collectible. Add in Sketch Cards and you have an incredibly chase-worthy hit program!
Not to be overlooked is the extensive base set and myriad of inserts. Among those that really caught our eye are Totally Toys, which puts everyone's favorite figures back into their blister packaging.